IPL Laser Hair Removal
*ALL PRICES ARE PER SESSION*
Upper & Lower Lip $50* Hands & Fingers $40*
Chin & Neck $55* Full Legs $150*
Upper/Lower Lip & Neck $70*
Upper Legs & Bikini Line $100*
Forehead $40* Feet & Toes $40*
Full Face & Neck $75* Chest $70*
Lower Half of Face $80* Abdomen $100*
SideBurns $40* Chest & Abdomen $150*
Chin $25* Full Back & shoulders $150*
Back of Neck $40* Shoulders $70*
Underarms $40* Lower Back $70*
Full Arms (Inc. Fingers) $100* Basic Bikini Line $50*
Upper Arms $60* Linea (belly button line) $40*
Buttocks $150* Full Body $499*
IPL Laser Skin Rejuvenation
*ALL PRICES ARE PER SESSION*
Full Face $200*
Neck $225*
Full Chest $250*
Single Spots $30*
(Click here to see video)
Intense Pulsed Light (IPL) is a technology that combines a power source with a contact cooling system for comfort.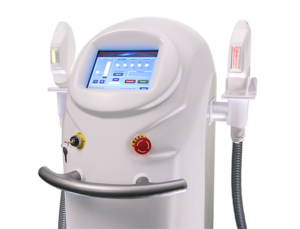 The IPL Hair Removal Procedure Is Extremely Safe and Effective.
Laser hair removal is one of our most highly sought after treatments. We use medical grade equipment in our clinic with the goal of providing affordable effective treatments for men and women alike. Before your first treatment, you will need a short 15 minute consultation with one of our skin- care consultants. This is needed to assess your skin type, assess your suitability for treatment and discuss how to prep your skin for the best possible result.Click here to watch video for more information
Intense Pulsed Light (IPL) Treatments for Skin Rejuvenation
A popular choice for skin rejuvenation.  Not only is it indicated for collagen remodelling but also to alleviate both vascular and pigmented issues, restoring the skin to a more youthful appearance.

Key Benefits of IPL Treatments for Skin Rejuvenation
IPL skin rejuvenation procedures do not require any anesthetic and sometimes offer near-instant results. The painless procedure also does not require any downtime, which means clients can resume regular activities shortly after the treatment. IPL treatments can be used to correct and refine nearly all skin types, and It has proven to be particularly effective for treating age spots, freckles, acne and rosacea.
Open Hours
Monday   9am – 9pm
Tuesday   9am – 9pm
Wednesday   9am – 9m
Thursday   9am – 9pm
Friday   9am – 9pm
Saturday   10am – 6pm
Sunday   10am – 4pm